Summer Kickoff Special Event
Live Music at the Baker Cabin site in Carver
featuring The Fireside Social Orchestra Quartet
Father's Day, June 19, 5 pm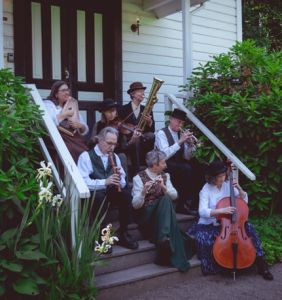 Please join us for a Fathers' Day treat and special event: Trail Music Night in the historic church at the Baker Cabin site. Our special musical guests – The Fireside Social Orchestra Quartet – will highlight music of the Oregon Trail era and other 19th  century classics. Bring a picnic dinner to enjoy before or after the concert at 5 p.m. The site will be open for "trailgating" from 3 p.m. until dark. The music, brought to you by Laura Kuhlman, Gayle Neuman, Phil Neuman and Elizabeth O'Connor, will feature 19th century songs and dances from the parlour and ballroom performed on period instruments and voices.
Musical hosts Phil and Gayle Neuman are musicians, teachers, and instrument builders that engage in the performance of historical music from a variety of periods. You may be familiar with their work with the Oregon Trail Band, the Oregon Renaissance Band, or their extensive work in fostering early music ensembles in the area. They are a regional treasure as well as members of the Carver community, and we are honored to partner with them in bringing this event to Baker Cabin.
The Fireside Social Orchestra's repertoire includes quadrilles from "Foster's Social Orchestra" published by Stephen Foster in 1854, music from the Aurora Colony (established in 1856) and other music from Old Oregon, songs with lyrics by early Oregon author/suffragists Abigail Scott Duniway and Eva Emery Dye, fiddle tunes from Ireland, England and America, shape-note songs from The Sacred Harp (1844), Christmas Carols in their original forms, early ragtime music, marches, light classical music, early American political songs and much more. As they present a curated selection perfect for an early summer evening – be prepared for an evening of fun and great music!