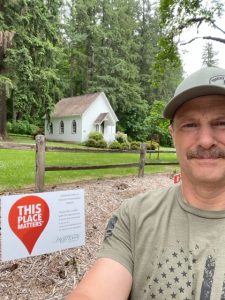 March 9, 2024, at 7 pm – Baker Cabin Lecture Series
Cabin architecture and Oregon Trail Quilts
The Oregon Trail represents a signature point in time in the history of the American West. Please join us for a talk by Docents Rebecca and Hans Ettlin about the unique architecture of the Baker Cabin. We'll also have on view a pair of quilts by Claire Kellogg that highlight the Oregon Trail and those who made the journey. Claire will be on hand to answer questions about the quilts and the techniques she used to make them. Look forward also to an update about the Baker Cabin quilts that were rediscovered last year. Suggested donation at the door.